FAQ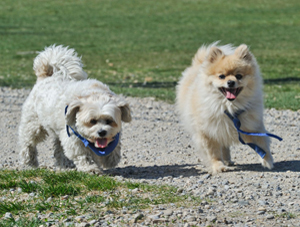 Why hire a dog walker?
You will have the assurance that your dog's exercise and socialization needs are being met on a regular basis. Exercise and adequate socialization leads to the overall health and well being of your dog. You will come home to a happier and healthier pet.

Benefits of regular group exercise include:
opportunity for play and socialization
improved cardiovascular system
toned muscles and increased bone density
more alert and content disposition
weight control and fewer health problems
longer life span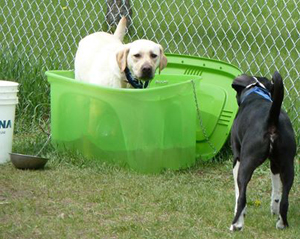 What are the requirements my dog has to meet to join the walks?
Calgary Dog Walk accepts dogs based on the following criteria:
Vaccinations up to date
Current City of Calgary license
Spayed or neutered
No history of aggression towards people or other dogs
Has reliable recall (comes when called) and has had experience at an off-leash site
How many dogs do you walk off leash at one time?
We walks dogs off leash in groups of up to 8. We find this facilitates excellent control and thorough poop pickup.

Which dog park will my dog be taken to?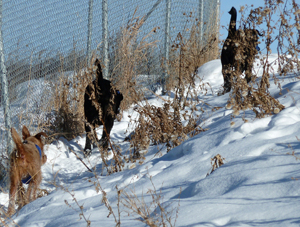 All dogs in your group are local to your area so typically the dogs are walked in the closest, most appropriate off leash park in your area. We are currently serving all of SW and SE Calgary.

When do you walk?
We walk Monday to Friday and generally are providing a midday walk. All of our walkers only do one walk per day as well as handling their pee break duties. Generally we do not walk on weekends but special arrangements can be made if you require that.

What is your seasonal weather policy?
Calgary Dog Walk will walk your dogs in any type of weather with the exception of days that are too cold (-20 degrees and below) or too hot (+30 degrees and above). We offer backyard pee breaks at a reduced rate when the weather exceeds these limits.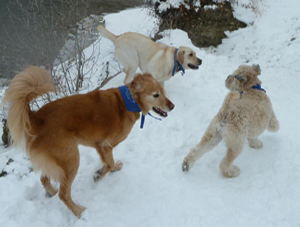 As we walk in all types of weather, we request that you leave dog towels by your door so we can thoroughly rub down your pet. We would be happy to leave your pet in a prearranged area on the "wet" days for the safety of your home.

What are your services and fees?
Please refer to our Rates page for all available services and rates.

How do I pay for your services?
We send our monthly invoices and are currently accepting cheques or email transfers as payments.

Are you insured, bonded and registered?
Yes, Calgary Dog Walk is fully insured and bonded through the Verge Insurance Company. We always bring our Certificate of Insurance to your free in-home consultation. We are a registered company.


How do you get in and out of my home?
You can supply Calgary Dog Walk with a key or code to your home or you can leave your dog in the back yard; whatever works best for you. Keys are labelled with your dog's name, so no identification to your home is evident on the keys. We are fully insured and bonded.

What is your cancellation policy?
There is no charge if we are given 24 hours notice of your cancellation. If you require a last minute walk, we will try our best to accommodate the request and add a walk for your dog.

What areas do you service?
We are currently serving all of SW and SE Calgary.

Give us a call if you have any further questions. We welcome all inquiries. 403-803-2036